Wet International 3.1 oz. Wet Silk
Wet International 3.1 oz. Wet Silk

Silky, creamy, slippery Wet® Silk™ is the newest hybrid lubricant from Wet®. Wet® Silk's discrete packaging looks like a hand lotion so it can be left on the nightstand or bathroom counter.
This formula is a favorite for those who prefer a silky, creamy lubricant. Wet® Silk™ is formulated to be ultra moisturizing and provide long-lasting lubrication that stays silky to the end. It dries to a powdery soft finish. Kosher!
• Water + Silicone Hybrid
• Glycerin and Paraben Free
• Ultra Moisturizing
• Dries to a Powdery Finish
Wet® Silk™ is a creamy, water-based formula with a touch of silicone for suppleness. It is latex friendly and rinses away easily with warm water. You can also wipe it dry with a towel. It will leave your skin feeling soft, never sticky. Wet® Silk™ can be used with most toys. It is recommended that you do a small patch test on silicone toys to see if there is a reaction first.
We've formulated Wet® Silk™ without glycerin or parabens for those who are sensitive to them. Parabens are used in many other lubricants but they are linked to irritation in those with paraben allergies.
This gentle formula is designed to look and feel like a lotion. Once rubbed into the skin, it becomes clear and leaves no residue. You can let it dry or wipe it away with a towel.
Nobody likes a sticky lubricant. Wet® Silk™ is long-lasting but it is formulated to dry without feeling like you need to jump up and take a shower. So relax and enjoy the moment!
Forbidden Apple leading the way in sex toys in Canada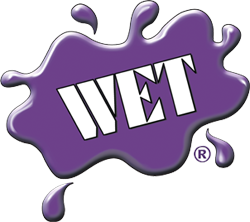 Reviews