Lust by Jopen L6 Pink
Lust by Jopen L6 Pink
Lust L6 by Jopen a whisper soft G-spot massager made for a woman by women.  Feature 10 intense pleasure setting providing vibration, pulsation, and escalation that are sure to please.  100% of the Lust L6 area is the play area, it is beautifully subtle and unassuming to look at with its LED lit interface letting you adjust and customize an ideal combination of sensation and speed just for YOU.  This pretty toy is perfect for travel will it's "lock feature" that will ensure your vibe never turns on at an inappropriate time.  To set the lock feature in place just hold both buttons down for a few seconds and repeat to unlock. 
We are sure you'll also appreciate how quiet this vibrator is, even at the highest level, you'll only hear a subtle buzz. Since the L6 is rechargeable, it'll always be ready when you are.  A 4-hour charge is all you'll need to fully power up and provide hours of pleasure.
Don't forget to keep your L6 safe and clean while not in use, preferably in a soft drawstring storage bag away from other toys.  As with any silicone toy remember to use a good quality water-based lube and avoid silicone and oil formulas.
• 2" x 1.25"/5 cm x 3.25 cm (stimulator)
• 3.5" x 1.5"/9 cm x 3.75 cm (petals)
• 8" x 2"/20.25 cm x 5 cm (overall)
• Silicone "G" massager
• Intimately contoured for any woman
• Full coverage petals for complete and total arousal
• 10 intense functions of vibration, pulsation and escalation
• Rechargeable battery runs for 2 hours on high speed, 3 hours on low speed
• Complete charge in 2 hours
• Unscented, non-porous, hypoallergenic
• Virtually seamless, satin finish Silicone
• Auto on/off button with LED indicator light
• Whisper quiet
• 100% waterproof
• Premium Silicone
• Easy-to-clean
• Universal USB cord included
• One year warranty
JO4721-00-3
Forbidden Apple leading the way in sex toys in Canada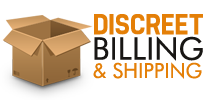 Reviews