LELO Smart Wand Medium-LELO Canada
LELO Smart Wand Medium-LELO Canada
A gorgeously innovative, highly functional, professional quality massager from Always-luxurious Lelo, the high-end Smart Wand boasts Lelo's completely unique SenseTouch technology, which smoothly and naturally increases the intensity of the vibration when in contact with skin. Power and much easier to maneuver around the body.  hungry pleasure seekers will absolutely adore the intensity of this tool, it easily rivals electric massagers, but is rechargeable, wireless, lightweight,
Simple, easy to use controls built into the body of the massager are always within easy reach, they smoothly cycle the powerful, near-silent motor through its various patterns, and activate SenseTouch. To make use of this innovative feature, hold down the middle button for several seconds. When pressed normally, the same button will cycle you through 8 per-programed patterns of steady vibration, pulsation and completely unique combinations of the two. If you'll be traveling with your Smart Wand, you'll adore the lock feature, which prevents the motor from unintended activation. Hold the + and - buttons together for several seconds to lock, and repeat to unlock.
This vibe is an ideal choice for pleasure seekers with sensitive skin, as the high-end silicone material is completely hypoallergenic and won't irritate delicate areas; you'll love the feel, too, the surface is incomparably silky and will warm quickly and naturally to match body temperature with use. Maintenance is worry free and simple, a good wash with soap and water will clean your Smart Wand up before and after use, and since it's waterproof, you won't need to worry about getting it wet, during both cleaning and enjoyment. Always choose a good water based lube to use in combination with your massager if needed, avoid silicone formulas. A two-hour charge will fully power up the Smart Wand, giving you approximately 2 hours, depending on the settings you're enjoying. Storage bag, Insignia pin, and charger included.
• Materials: FDA-Approved Body-safe Silicone/ABS
• Finish: Matte/Gloss
• Size: 220 x 58 x 42.5mm / 8.66 x 2.28 x 1.67 in.
• Weight: 155 g / 5.47 oz.
• Battery: Li-Ion 500 mAh 3.7V
• Charging: 2 hours at 5V 500 mA
• User Time: up to 2 hrs
• Standby: up to 90 days
• Frequency: 120 Hz
• Max Noise Level: 50 dB
• Interface: 3-button interface, 8 modes, tactile response function
• Contents: Smart Wands™ (Medium)massager, charger, Insignia™ brooch, a satin storage pouch, 1-year LELO warranty 
Forbidden Apple leading the way in sex toys in Canada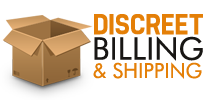 Reviews