Kama Sutra Massage Candles-Canada
Kama Sutra Massage Candles-Canada
These Massage Candles are AMAZING they are soooo Aromatic! 
Kama Sutra's Sensual Massage collection is fortified with skin-nourishing vitamin E and artfully blended with pure essential oils for soothing mind body and spirit. If you're feeling adventurous, try heating things up and setting a sexy mood with our scented sensual massage oil candles.
The Aromatic Massage Oils line has several enticing scents that are sure to impart blissful, therapeutic relaxation when drizzled onto your lover's body. These erotic massage oils are also available in sample size with our Massage Tranquility Kit, so you can experience each of the aromatic blends this line has to offer. Kama Sutra also has an exclusive line of Naturals Massage Oils, which use the very best of nature's gifts for luxurious, renewing arousal. Indulge in our rich and silky smooth sensual massage lotions that will inspire intimacy with their sweet, luscious scents.
For a night that you won't forget, spice things up with one of our invigorating Massage Oil Candles. These transforming candles are sure to build desire and spark passion with scented wax that slowly melts into sensual massage oil. Browse our collection of erotic massage oils and lotions and reward yourself with some of the most luxurious products Kama Sutra has to offer. 
KAM10199
Forbidden Apple leading the way in sex toys in Canada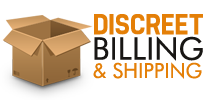 Reviews